2023 ESG Open Enrollment
Welcome to Inframark!
Your Inframark benefits play a major role in the health and well-being of you and your family. Explore this easy-to-read electronic guide that is filled with important information and step-by-step instructions for enrolling in your Inframark employee benefits. Click on the image below to view the 2023 ESG open enrollment benefits guidebook.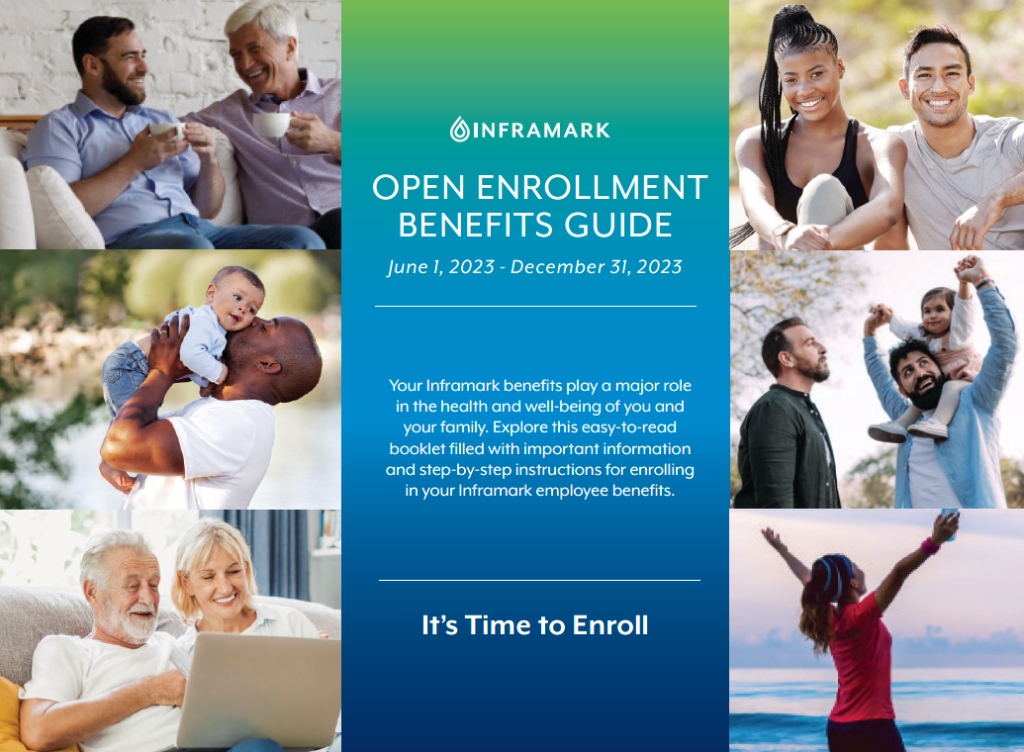 Attend an in-person benefits meeting to learn more!

Click here

 for the Benefits Team tour schedule to see when they will be presenting at your location. Onsite enrollers will be available to assist at select locations. 
Not sure which plans to enroll in? No problem, ALEX can help you!

Click here

to meet ALEX and he will recommend plan options that best meets your or your family's needs.
Don't Forget! Sign up for employee benefits messages, text "INFRAMARK" to 877-799-4635.\
Become a healthier you by participating in Inframark's wellness program. Click here to check out the wellness brochure.
FAQs:
1. When is open enrollment?
Open enrollment for ESG employees starts on April 3 and ends on April 21, 2023. Your current benefits with ESG will end on May 31, 2023.
2. Do I have to enroll?
3. How do I enroll in my Inframark benefits?
4. Who do I contact if I need enrollment assistance?
Enrollment assistance is available by phone by calling the Online Benefits Service Center at 800-307-0230. 
5. Who do I contact if I have additional questions?
6. Who's eligible to enroll?
7. Can I add my dependents?
Yes. Eligible dependents you can cover under your Inframark healthcare plans are our legal spouse/domestic partner, biological/adopted children up to age 26, and your unmarried children of any age, if mentally or physically incapable of self-support.
8. What will happen to my life and Short-Term Disability insurance that I enrolled in with Omaha?
You will be automatically enrolled in Inframark's company paid life and AD&D insurance, short-term and long-term disability plans. But, medical, dental, vision, spending accounts and any voluntary plans require an active election.